Combe Chenin Blanc 2019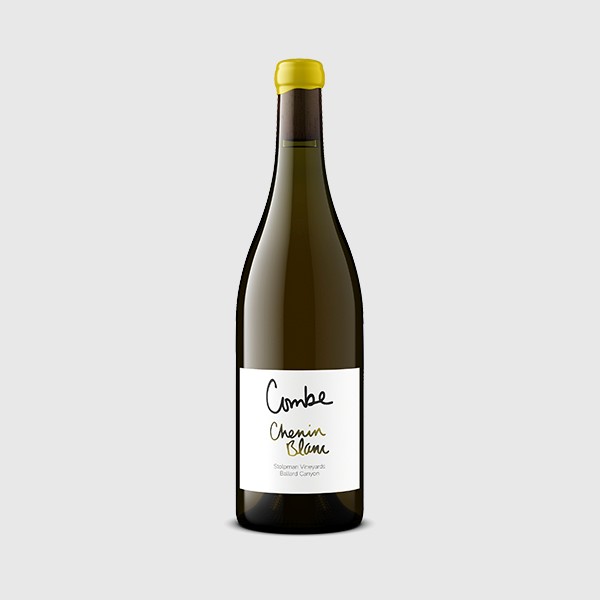 Background
Pete Stolpman's esoteric project is labeled "Combe" referring to the French word for a small sheltered valley within a vineyard. Sometime around 2010, Pete became convinced of the great potential for the pale red Trousseau grape on the Limestone soils of Stolpman Vineyards. We decided to make a light red Trousseau and a Trousseau Pet'Nat. The first vintage for the Trousseau wines was 2014, and we now have 3.5 acres planted to the varietal. Our 1.5 acres of Chenin began producing in 2016. We blended the tiny first crop from our .5 acres of Mondeuse into the Vin Gris. In 2020 Mondeuse added color and acidity to both the Combe Pet'Nat and Vin Gris. In 2020, Jessica Stolpman made just a few cases of a Savagnin-Chardonnay co-fermentation from the very first grapes of Savagnin produced from Stolpman. The 2 acre block of Savagnin will perhaps produce enough wine to sell in 2021, 2022 at the latest.

Vintage
For the second year in a row, we enjoyed moderate weather leading up to, and continuing through harvest. Most notably, we did not have to work around "Santa Ana" heat spikes. The subsequent 2019 vintage wines should be ripe, but with taut freshness and bright, lively acidity. Generally, we are fixated on waiting until the Chenin Blanc grapes gradually yellow and selecting cluster-by-cluster over multiple passes down each row. In 2019, we selected a few yellowed clusters on September 9th and then waited for the remainder of the crop to color up before harvesting on September 17th.
At The Winery
The most important evolution in Chenin Blanc transpired from the 2017 vintage to the 2018 vintage. We opted to hold the '18 in barrel through the next vintage, as we have with this release, to allow the wine to become more fleshy and rich, marrying with the smoky reduction and oak toast. While the 2017 has now developed beautifully in bottle, the 2018 and 2019 both present an opulently inviting, delicious profile upon the delayed release.
Sensory
Polished and full bodied. The nose and front-palate carry honey over fresh ripe green apples and an electric razor of lemon. Firm, crunchy structure frames the opulence of the wines' girth and sense of luxury. The wine delivers power and intensity in its youth and will evolve into a true beauty over the next decade.

Wine Specs
Appellation
Ballard Canyon
Vineyard Designation
Stolpman