Combe Pet'Nat 2020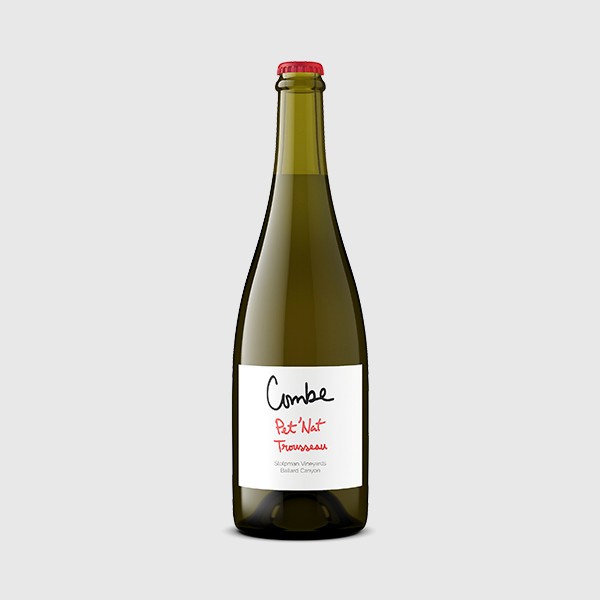 Background
Pete Stolpman's esoteric project is labeled "Combe" referring to the French word for a small sheltered valley within a vineyard. Sometime around 2010, Pete became convinced of the great potential for the pale red Trousseau grape on the Limestone soils of Stolpman Vineyards. We decided to make a light red Trousseau and a Trousseau Pet'Nat. The first vintage for the Trousseau wines was 2014, and we now have 3.5 acres planted to the varietal. Our 1.5 acres of Chenin began producing in 2016. The tiny first crop of Mondeuse made it into the 2019 Vin Gris and should make up the majority of this delicious dark pink wine in 2020. We continue to propagate Poulsard and Savagnin and we hope to start seeing fruit within a few years. Savagnin will be planted more widely while we will wait to taste our experimental block of Poulsard before further commitment.
At the Winery
For the first time, we harvested a little over half of our .5 acre block of Mondeuse for Pet'nat with the goal of giving the wine more lift and acidity, and also a pale salmon color.
The fruit was transferred overnight up to the Maestro Michael Cruse' sparkling facility in Petaluma. The wine fermented towards dryness and was placed into bottle under crown-cap with a touch of natural sugar remaining. The fermentation that finished in bottle creates the bubble.
An important note, Michael disgorges each bottle, removing any solid yeast material and lees from the bottle, and refills it – prior to bottling. This step ensures a consistent and elegant pressure and head.
Sensory
Airy white watermelon flesh and firm pear flesh in front of jamming pert tropical fruits with even some spicy, flickering red zest. The bead of bubbles hits up front, married with the crunchy kick from the Mondeuse, all supporting the abounding fleshiness of the mouthfeel.
Wine Specs
Appellation
Ballard Canyon
Vineyard Designation
Stolpman