Crunchy Roastie Rainbow 2021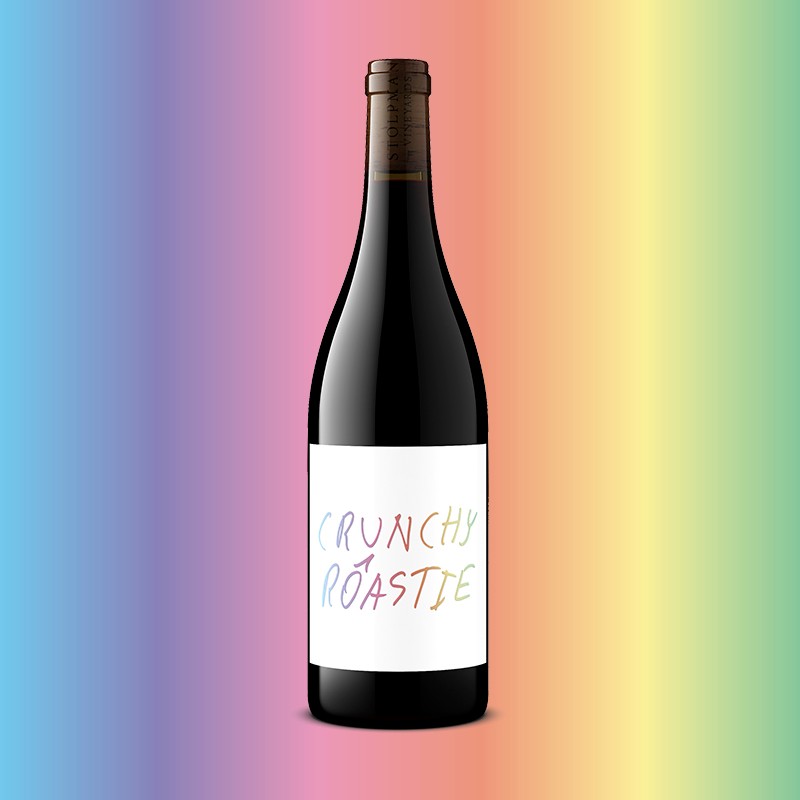 95% Syrah / 5% Viognier
Background
We pick Syrah early while still "crunchy", with high acidity and low potential alcohol. Then, we utilize whole-grape, un-crushed carbonic fermentation so as not to extract coarse, under-ripe tannin – leaving the wine feathery and chill-able. To ensure a pure, luscious fruit profile we utilized the age-old Cote Rotie "Roasted Slope" method of co-fermenting a small percentage of viognier that heaps on pretty floral aromatics to the darker, brooding Syrah profile.
Since beginning production of Crunchy Roastie in 2019, each year we bottle two distinct cuvees. We bottle the first edition with a black and white label in early January for an especially bright, fruit-forward, zippy profile. The second bottling, 3 months later in early April, fleshes out with the "extended elevage" (barrel age) and becomes more of a traditional red wine. The June 1st release of the rainbow label happens to coincide with Pride Month, and Stolpman Vineyards donates $3/bottle sold throughout June to our local Santa Ynez Valley Pride Foundation.
Vintage
The cold spring led into an even, moderate 2021 growing season. A later year than normal fostered slow ripening while retaining balancing acidity. Syrah grapes remained taut leading to fresh, low-alcohol picks even in October!
Sensory
Lavender on the nose and exceedingly smooth and feathery on the palate with red and purple berry fruit. Polished, soft, and fine. Fresh, yet approachable and inviting. The rainbow edition benefits from only a slight chill, best popped at cellar temperature (55F) and allowed to gradually warm up as the bottle (quickly) depletes.
"Whoa, that's a full rainbow all the way. Double rainbow, oh my god. It's a double rainbow, all the way. Whoa that's so intense. Whoa man! Wow! Whoa! Whoa! Whoa ho ho oh my god! Oh my god! Oh my god! Woo! Oh wow! Woo! Yeah! Oh ho ho! Oh my god! Oh my god look at that! It's starting even to look like a triple rainbow! Oh my god it's full on! Double rainbow all the way across the sky! Oh my god. Oh my god. Oh god. What does this mean? Oh. Oh my god. Oh. Oh. God. It's so bright, oh my god it's so bright and vivid! Oh. Ah! Ah! It's so beautiful! [Crying? Laughing?] [Pretty sure he's crying.] [Now he's laughing and crying.] Oh my god. Oh my god. Oh my god! Oh my god, it's a double complete rainbow! Oh right in my front yard. [Laughter] Oh my god. Oh my god, what does it mean? Tell me. [Crying] Too much. I don't know what it means. [Laughter] [Heavy breathing] Oh my god it's so intense. Oh. Oh. Oh my god." ~Double Rainbow Guy ❤️🌈
Wine Specs
Appellation
Ballard Canyon