Originals Syrah 2016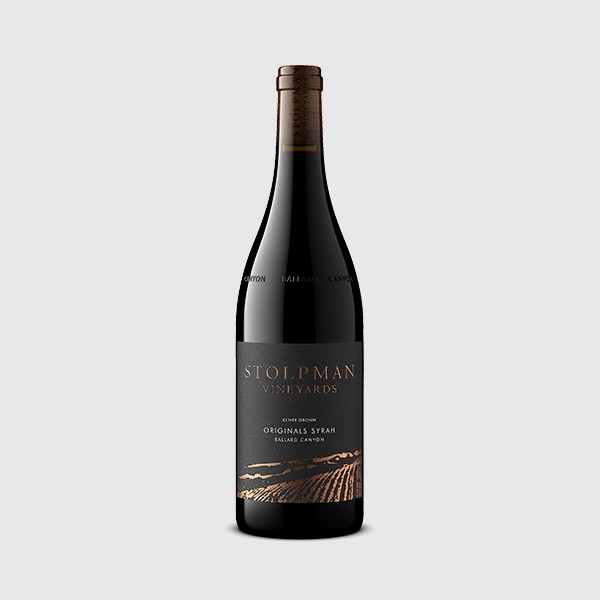 Background
The Originals Syrah cuvee incorporates only the initial Syrah plantings that Tom Stolpman put into the ground in 1992. These vines are not only our Original planting, but they are the oldest vines in Ballard Canyon AVA. The wine made from these vines generated the Syrah-planting fervor which eventually led to the publication of Ballard Canyon AVA – the only appellation in the United States dedicated to the grape Syrah.
Vintage
As the last 2016 wine to be released, we are now intimately familiar with the stamp of the 2016 vintage. Dark, supple, and pleasurable wines resulted from the moderately warm, even, and healthy year. The vines were happy, and the wines show it. Followed by the fleshy, approachable 2012 and 2014 vintages, the 2016 vintage further established a pattern of even numbered vintages showing deliciously out of the gate. The odd numbered vintages of 2011, 2013, and 2015 displayed more pent-up energy and need time to settle down. The jury is still out on whether this "odd versus even" pattern continued in 2017, 2018, and now 2019 - as these vintages seem to combine elements of both.
At the Winery
Trained to only give us a few clusters per vine, the massive root-networks of these mature vines deliver whopping concentration and power. Apart from the more gentle extraction we have been practicing across all of our red wines, for the Originals in particular, we have been pushing out the barrel-aging and release dates in an effort to allow the rawness of the wine to dissipate into a delicious, luxurious textures.
Sensory
The profile immediately gravitates towards blue-purple-black abyss – close your eyes, shut the noise out, and enjoy. Coating and thick through the palate, the Originals shows off the yummy richness of the 2016 vintage. After extended aging, this wine is exceedingly drinkable upon release. Mouth-filling and robust, yet with a polished smoothness luxuriating from the front palate, voluptuously commanding through the mouth, and plump yet gracefully blooming with intensifying dark fruit over a long finish.
Wine Specs
Appellation
Ballard Canyon
Vineyard Designation
Stolpman