Roussanne 2017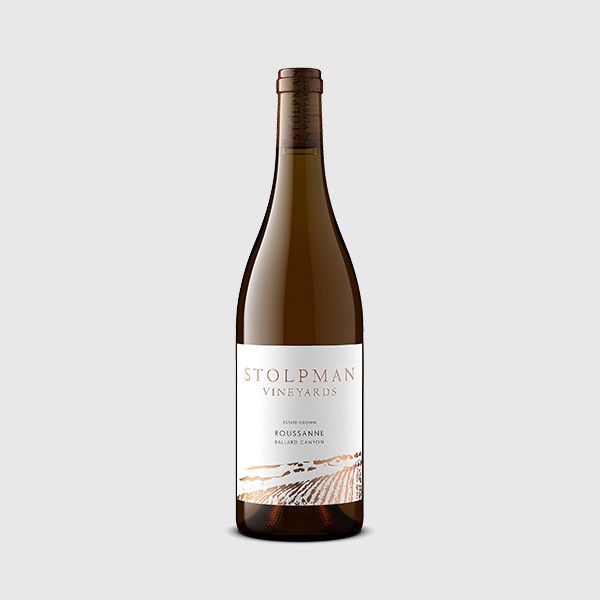 Background
We feel we have a singular opportunity to make opulent, intriguing Roussanne. The varietal is extremely slow to grow and mature through the season and the conditions at Stolpman combine to allow for even, albeit late, ripening. Our southern location near 34 degrees latitude gives the Roussanne grapes intense solar radiation to tan the fruit their namesake "Rousse" or Rust color. Limestone soils and cold nights combine to maintain acidity late in the year. Low humidity and high winds keep the grapes clear of mold and for better or worse, we never get significant rain fall through harvest. La Cuadrilla takes every possible effort in the vineyard to optimize the Roussanne fruit. Most notably, in late July we pull leaves away from the fruit to allow direct sun penetration. A month prior to forecasted harvest, every grape cluster is rotated 180 degrees to facilitate an even sun-tan. We are extremely proud that our 19 acres of Roussanne now represent a world-wide benchmark for the varietal.
Vintage
After a healthy 25 inches of winter rainfall, the Roussanne vines were rejuvenated and strong enough to get the crop beautifully ripe. Heat events came weeks before Roussanne harvest, giving the vines plenty of time to recover and continue their slow march towards perfection.
At the Winery
Thrilled with the flavor and sugar content of the fruit entering the winery, the team immediately pressed the juice into Puncheons (large French Oak barrels) with gentle pressure to optimize the delicate purity of the finished wine. Confident in the beautiful fruit profile, we once again backed off the percentage of new oak. This vintage aged in only ¼ new oak, a reduction from wines that were 100% new oak a few vintages back. We feel this ratio gives us the desired oak framework but doesn't mask the nose or front palate. In late Spring, we decided to blend 12% Chardonnay with the Roussanne. While hidden behind the concentration of the Roussanne on the nose, front, and mid-palate; the Chardonnay grants a firmer balancing structure on the finish.
Sensory
The Red wine drinker's white! 2017 Roussanne is rich and textured enough to stand up to most proteins from raw or cooked seafood, to turkey, through pork. It has a red wine weight but with a pretty lemon meringue profile. Fleshy textures ride many a layered current through the palate. The wine stays delicate and soft, feathering the mouth with coconut husk and tropical fruit.
Wine Specs
Appellation
Ballard Canyon
Vineyard Designation
Stolpman