Uni White 2019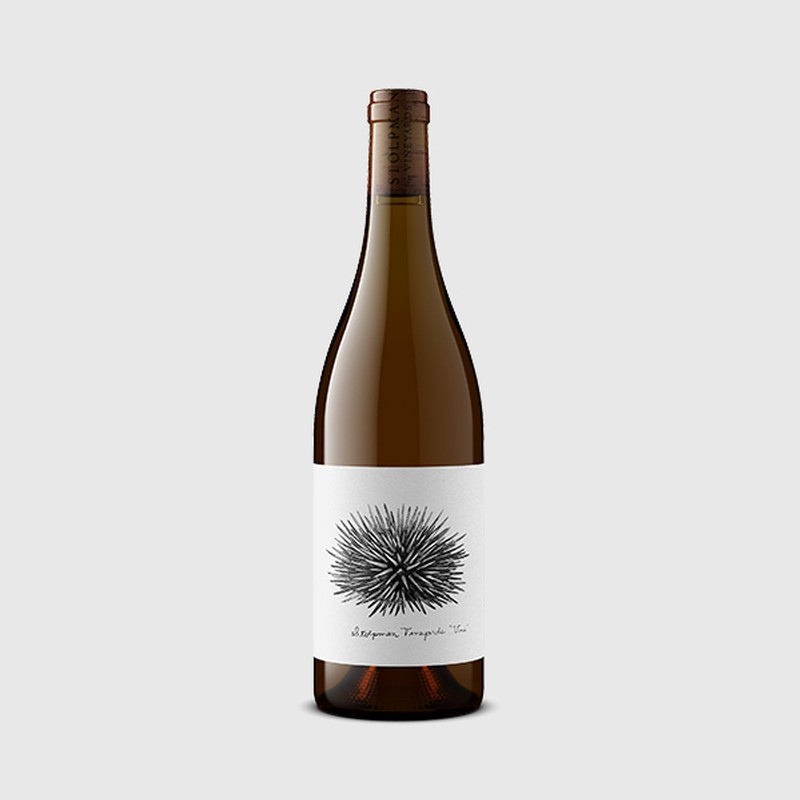 'Stephanie Mutz' local Santa Barbara County Urchin first blew my mind in 2012, when we hosted her for an Outstanding in the Field event on the vineyard. Since then, she and I have become dear friends – a mutually beneficial relationship as she brings the Urchin and I bring the white wine.' ~Jessica Stolpman
To set out to create a wine specifically made to pair with urchin would have been daunting. First, we would think about the totally unique texture, and then the delicate, nuanced ocean flavors – where would one begin? Thankfully, the UNI wine fell into our laps.
For me, Roussanne is the richest, most decadent white grape in the world and those traits are amplified on the Limestone soils of our Santa Barbara County vineyard. Because of the moderate, unsheltered-ocean influence here, we have one of the longest growing seasons in the world of wine. We typically harvest Roussanne, a historically slow ripener, in late October, often into November. Picking is done over a two week period, carefully selecting the perfectly gold "Rousse" grapes. The meticulous harvesting comes on top of a ton of work babying the vines – including leafing any shade away from the clusters, and hand-rotating the clusters on the vine once the exterior-facing side turns gold.
Monocepage Roussanne marries exquisitely with the texture of Urchin, but its fruit concentration can overpower the delicate flavor of those magic tongues. By adding crisp, mineral-driven early-harvested Chardonnay, we lift the wine up – giving it bright savory notes that better bond with that urchin magic.
Head winemaker Kyle Knapp delivered the final touch to this wine. I'll never forget walking into the winery and he had two glasses perched on separate barrels– one – a clear golden hue – and the other with a more yellow, fine translucent glowing mist. The latter had all the delicate flavor of the clear glass, but the rich texture had an additional coat through the mouth – it immediately took my brain to the taste and sensation of our local urchin. It turned out, Kyle had stirred the fine lees of one barrel as an experiment, and we ended up stirring the entire lot and bottling unfiltered.
I always crave the live Uni Biryani at our local Santa Barbara Indian spot, BibiJi, where not shockingly, they often pour our Roussanne BTG. I still dream about the Uni dish at Angler in SF where we went for Jess' birthday in December. ~Peter Stolpman
Wine Specs
Appellation
Ballard Canyon