Ruben Solorzano Syrah 2018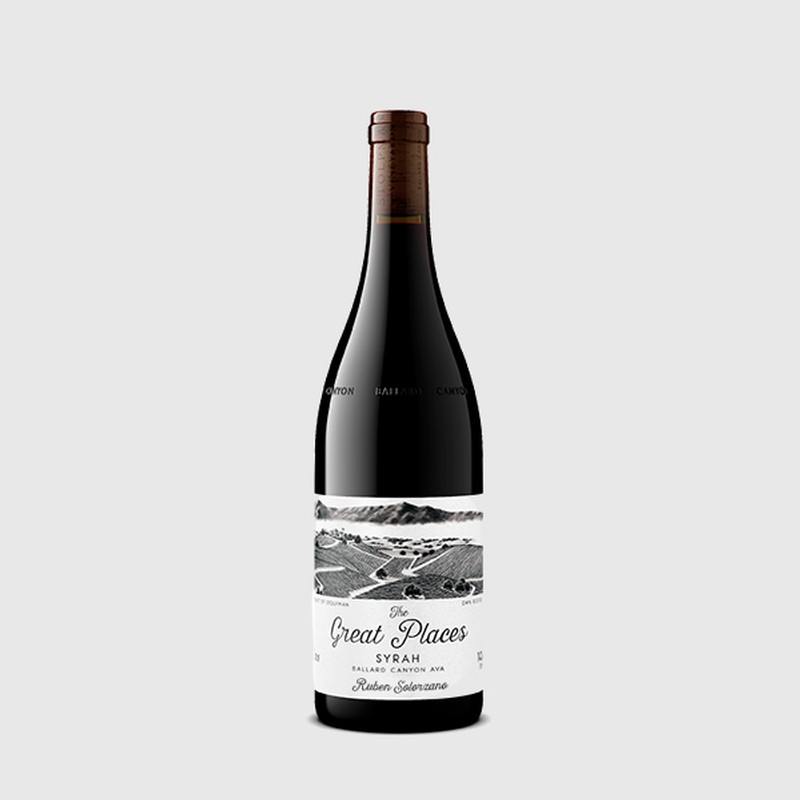 Background
Grape Whisperer Ruben Solorzano planted the first test vineyard that would pave the way for the other GREAT PLACES vineyards, back in 2007. Ruben crammed 6,000 pre-clonal Syrah vines (that he had secretly acquired) onto one beautiful hillside in marching rows of diagonal trellises directly above Ballard Creek. Each vine yields just two tiny, concentrated Syrah clusters. This wine was named Ruben's Block for its first decade of production, 2008-2017, and in 2018, the wine joins THE GREAT PLACES brand, as its founding block, alongside the debut vintage of 2018 August James Syrah. Up to 4 other pre-clonal Syrah strains growing on other Limestone exposures may soon join THE GREAT PLACES, only if the quality is as good as we hope and expect.
Great Places Syrah
Syrah that make the cut into our highest tier "The Great Places" label come from just 8 acres of our steepest hillsides where we have taken an approach unprecedented in the New World. First, the pre-clonal strains are wholly unique and selected from 100+ year-old vineyard sites. The "pre-clonal" vines ripen both grapes and clusters that are much smaller and more concentrated than modern Syrah clones that have been bred for vigor and productivity. Then, this Syrah material is planted own-rooted and head pruned at just 2.5 x 3 feet spacing. Each vine puts all of its energy into ripening 2-3 clusters of concentrated, complex fruit. All work is done by hand. The brand is named after one of our favorite Serine parcels in Cote-Rotie "Les Grandes Places".
Vintage
Heat spikes alone usually define vintages in Santa Barbara County. Here, we are blessed to farm without fear of rain, rot, hail, and humidity. In 2018 the only heat wave we endured arrived so early, on July 7; that it didn't impact the fruit ripening or flavor profile. The summer turned into a moderate, steady dream year when acids hung high as sugar slowly accumulated and intense, nuanced flavor developed. Perhaps the perfect year to debut THE GREAT PLACES Syrahs!
Sensory
A haunting blue-black abyss kissed with a spark of fiery crimson and wild bloodiness. From the gorgeous 2018 vintage, no shocker that the debut vintage of THE GREAT PLACES Ruben Solorzano Syrah is more hedonistic than any of the 10 previous Ruben's Block wines. Despite the plush, full-body of the wine is, it is also polished into a harmonious package. Smooth and giving upon the release, it will expand for even heightened pleasure with age, although anything more luxurious than the current profile is difficult to imagine!
Wine Specs
Appellation
Ballard Canyon