Combe Chenin Blanc 2021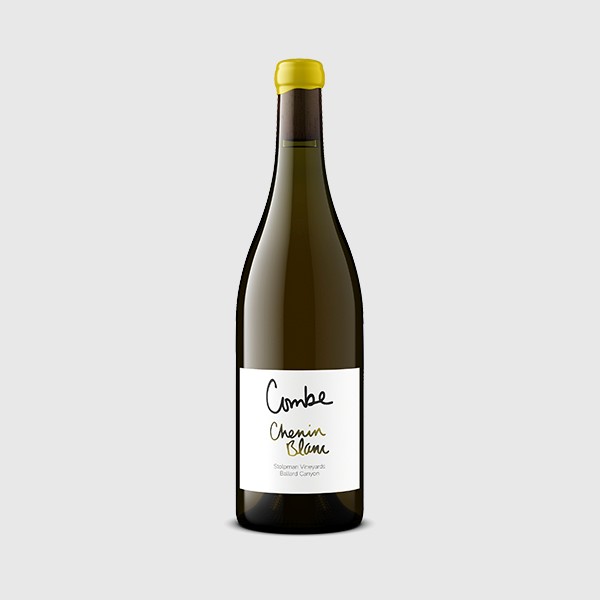 Background
Pete Stolpman and Rajat Parr's Esoteric Partnership "Combe" translates to a small sheltered valley within a Burgundian vineyard.
When Rajat Parr began making Sandhi Chardonnay alongside Stolpman in the Lompoc Wine Ghetto back in 2010, he immediately campaigned to plant Trousseau on Stolpman's Ballard Canyon Limestone soils.
Next, Rajat was inspired to plant Chenin Blanc while traversing the Limestone hills of the Loire River Valley writing his book, The Atlas of Taste. Interviews with Loire winemakers taught Raj that in order to make rich and substantial Chenin Blanc, one must wait until the grapes turn from green to yellow. He exhaustively searched throughout California for Chenin Blanc that yellowed, and finally found an old-vine site where winemaker Tegan Passalacqua reported the grapes turned color.
From the very first vintage in 2017 we saw yellow Chenin clusters. Rajat, eager to take advantage of prowess of La Cuadrilla, asked if we could harvest yellow clusters immediately, leaving the clusters still green, hanging on the vine. By picking in multiple passes, we obtain the richness of the yellow fruit before acidity drops out.
Vintage
Cold and windy conditions in the spring, combined with a second consecutive drought year, led to a small crop with bursting flavor concentration. La Cuadrilla further trimmed shoots in the two vine rows destined for Combe Chenin Blanc for amplified richness and concentration, while the rows destined for Pet'Nat Chenin Blanc where left with a heavier yield for a crisp sparkling wine.
We forecasted a late harvest until a Labor Day heat wave sped ripening up across the board. We picked the first grapes to yellow on September 1, before the heat, a big pick directly following the heatwave on September 6th, and then the last clusters to finally turn yellow on September 15th.
Sensory
Deep straw yellow bordering on a golden hue. Honeysuckle and lemon with taut minerality. Marcona Almond from start to finish. The bright mineral note and acidity beams through with golden light and expressive liveliness. A seriously delicious white wine now and for the next 20 years with a yumminess quotient of lemon meringue and banana foster.
Wine Specs
Appellation
Ballard Canyon
Vineyard Designation
Stolpman