Estate Syrah 2015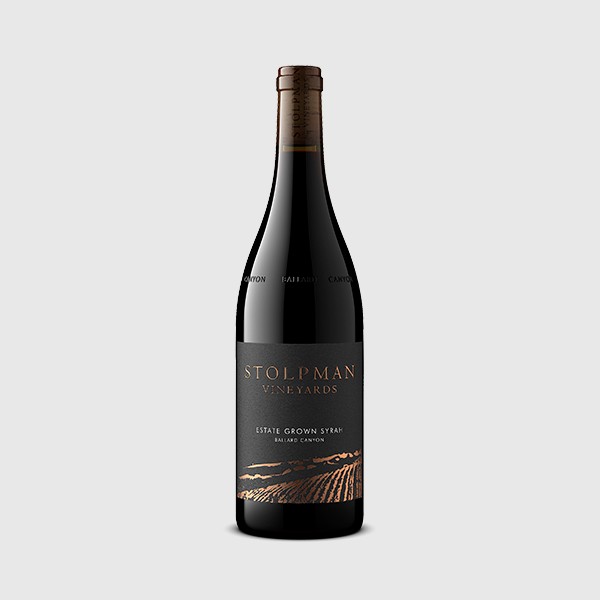 Background
Estate Grown Syrah has been the flagship wine of our vineyard since the start of our winery program. In the years since, through constant focus on innovation, most notably:
•Withholding water from vines (2001-2006)
•Own-rooting vineyards for further purity (2002-2016)
•Whole-bunch fermentation with dry-farmed lignified stems for enhanced backbone (2008)
•Native fermentation without Sulfur (2010)
•Removal of New Oak from aging protocol for purity (2010-2011)
•fermenting in naturally-insulating concrete fermenters (2012)
•Inclusion of only Free-run wine, no press wine (2014)
Estate Grown now stands alone in the niche world of Syrah. Fresh and savory Syrah character that comes across distinctly similar to the Northern Rhone, yet slightly more coating, richer texture representative of our dry, southern Latitude.
Vintage
Most notably, we see a drastic 50% reduction in Estate Grown Syrah production in 2015 due to cold, windy flowering conditions in March and April. Coupled with the warm drought conditions, the vines ripened the light fruit load giving us ample time to call the shots on flavor profile. For the first time, we finished Syrah harvest before October and while we had the option of letting the fruit hang longer for jammy ripeness, now tasting the wine, I think we nailed the picking decision. 2015 Estate Grown Syrah possesses a surge of energy and freshness that matches the excitement I felt when I tasted the juice bursting out of the tiny grapes in 2015. Unfortunately, this vintage will be gone before we know it, if only we had twice as much wine.
At the Winery
Drought stricken vines fought through the cold spring and hot summer to give us tiny, ripe grapes. The precious drops of juice that trickled out of the thick black Syrah skins possessed concentration beyond what we have seen since the frost plagued crop of 2008. As Tom Stolpman told me throughout my childhood, "what doesn't kill you makes you stronger" – and the adverse conditions certainly gave the vines a "dare to be great" situation. Thanks to years of dry-farmed strength-training under the ruthless watch of Ruben Solorzano – the vines stood up to the test, and now we are rewarded with the 2015 Estate Grown Syrah.
Sensory
Juicy yet complex and savory. If you don't like this wine - I give up. We continue to take pride in the relevance of this wine throughout the world. Throughout Northern Europe, the US, and even to Asia; sommeliers and customers seize on Estate Grown Syrah for its upfront joyful drinkability coupled with the underlying bonus of a more serious layer of iron, meat, and menthol that unfurl and reward those that cellar the wine just a couple years. A strong showing even following the past three great vintages, this wine proudly carries the Estate Grown Syrah torch forward.
Wine Specs
Appellation
Ballard Canyon
Vineyard Designation
Stolpman