Estate Syrah 2016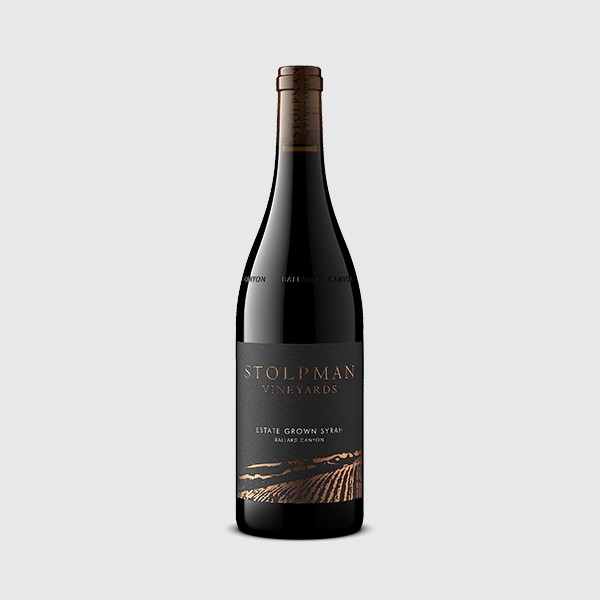 "In a gorgeous spot right now, head winemaker Kyle Knapp states it tastes like perhaps our favorite French Syrah Producer, Pierre Gonon – but at a fraction of the price. Violets and unctuous fruits walk a tight rope with touches of liveliness. It's tough to imagine this vintage getting any better and we recommend drinking now or within the next 3 years." ~Peter Stolpman
Background
The most representative "flagship" bottling of the vineyard, Estate Syrah has become the calling card not only for Stolpman, but for the Ballard Canyon AVA. Estate Syrah also symbolizes the evolution in viticulture and winemaking at Stolpman Vineyards. In the 1990s and well into the 2000s, this wine was made in a more traditional style – employing extended macerations, forceful punch-downs multiple times daily, and new French oak barrels – all in the effort to make bigger, more extracted wines. Today we rely on concentration derived from our version of dry-farming – no irrigation from fruit-set through picking. We are able to harvest small, undiluted grapes at the peak of freshness without the jammy flatness associated with longer hang-times and dehydrated fruit. Confident that our grapes provide plentiful color, flavor, and texture; we now manage our fermentations much more gently – delicately circulating the juice and only using free run wine in an effort to eliminate harsh tannins and to elevate the purity and nuance of the finished wine. All in all, Estate Grown Syrah now reaches a finer balance and is more delicious drunk both young, and fully mature.
Vintage
The conservative Syrah crop ripened evenly through the summer of 2016 and we harvested for what turned out to be a dark, opulent wine through the middle of September. The two Syrah blocks left hanging through the September 17-19 heatwave were immediately declassified out of this wine due to the appearance of slight dehydration.
At the Winery
In an effort to facilitate healthy, native fermentations without use of sulfur and other protectants, Ruben and Kyle developed an elaborate harvesting and fermenting routine. As blocks approached peak ripeness, La Cuadrilla hand-picked only the ridgelines and fully-exposed plateaus. These lots, riper than then the hillsides below, were de-stemmed, foot-trod, and allowed to start native-fermentation with plenty of juice sloshing about. La Cuadrilla waited typically 3-4 days to pick the hillside fruit once these lower exposures hit peak ripeness. We carefully sorted the clusters, and those perfect bunches with yellowed stems were thrown on top of the hilltop juice intact, while other clusters were de-stemmed to allow for further grape sorting. The healthy native fermentation already underway enabled yeast to penetrate the whole clusters and mitigated the risk of undesirable yeast and bacteria becoming active. The result is a lively, pure, fresh Syrah profile with tons of nuance. The yellowed, lignified stems create a savory woody backbone native to the vineyard, rather than employing sweetening new French oak.
Sensory
The 2016 swooshes out of the bottle with a rich, decadent profile. At first blush, the wine comes out with a wave of piercingly pure purple - perfectly ripe, firm plums. With a few swirls the savory meaty, leather notes arrive. Then, a surge of high-toned energy emerges and a red tinge begins to layer and surround the evolving darker notes of blueberries, cinnamon, and chicory. Even youthful, the wine is unexpectedly refined and balanced – an Estate Syrah Edition for the ages. this middle ground – not jammy or gloppy like a warmer climate Syrah – but not austere and hollow like many young cold climate Syrahs. Just a baby now, the primary flavors will surely unfurl into more complex, seamless layers. While the ideal drinking window begins around 2018, our leap forward in winemaking methodology allows for early enjoyment as well.
Wine Specs
Appellation
Ballard Canyon
Vineyard Designation
Stolpman
Wine Profile
Other Notes
Library Sale 2023