Estate Syrah 2017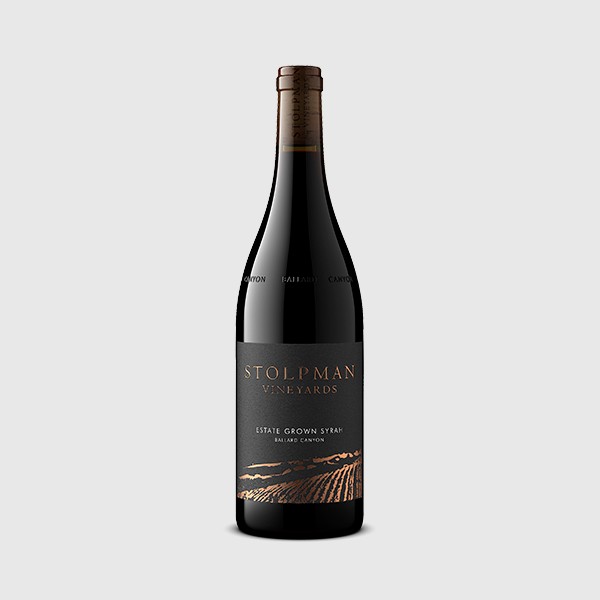 Background
The most representative "flagship" bottling of the vineyard, Estate Syrah has become the calling card not only for Stolpman, but for the Ballard Canyon AVA. Estate Syrah also symbolizes the evolution in viticulture and winemaking at Stolpman Vineyards. In the 1990s and well into the 2000s, this wine was made in a more heavy-handed style – employing extended macerations, forceful punch-downs multiple times daily, and new French oak barrels – all in the effort to make bigger, more extracted wines. Today we rely on concentration derived from our version of dry-farming – no irrigation from fruit-set through picking. We are able to harvest small, undiluted grapes at the peak of freshness without the jammy flatness associated with longer hang-times and dehydrated fruit. Confident that our grapes provide plentiful color, flavor, and texture; we now manage our fermentations much more gently – delicately circulating the juice and only using free run wine in an effort to eliminate harsh tannin and elevate the purity and nuance of the finished wine. All in all, Estate Grown Syrah now reaches a finer balance and is more delicious drunk both young, and fully mature.

Vintage
The much-needed early spring rains in 2017 allowed the vines to grow healthily well into the summer before shifting remaining energy to ripening. A fairly typical vintage, we were able to space out Syrah harvest nights for over a month, starting at the end of August and concluding in early October. 2017 marks the final "early" vintage in a six year string of red wine harvests focused on September. 2018 returned to a year with the most activity in October.
At the Winery
he second vintage in a row to be bottled before the next harvest, the Estate Syrah shows a tantalizing freshness. Gentle tannin extraction and gradual temperature increases through fermentation have allowed us to hit a finer balance and a much earlier drinking window for the succulent estate syrah.
Sensory
he 2017 Estate Syrah shows both perfumed fruit and savory depth, beauty and brains. Gushing boysenberry juice seeps through the finish, complimented by an outward-stretching mélange of fresh berry flavors. The wine is screamingly delicious and upfront fresh in its youth and I look forward to the coming development of secondary flavors with time in bottle. Worth every cent and then some now but at least 5 fold with a few years in bottle.
Wine Specs
Appellation
Ballard Canyon
Vineyard Designation
Stolpman