Hair of the Bear 2019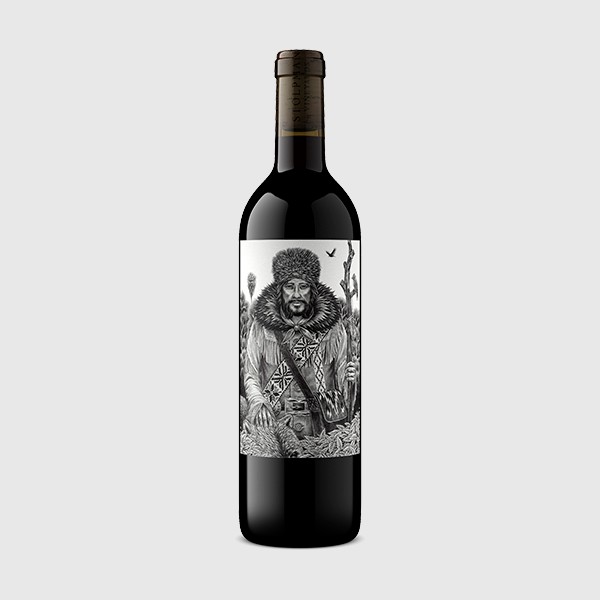 BACKGROUND
We've bottled wine from the 3.5 acre 1992 planting of Petite Sirah on only a few occasions. Especially in the extremes of Ballard Canyon, winemakers must wait for the Petite Sirah skins to soften in order to avoid burly, coarse tannins. This often means picking at extremely high sugars and bottling wines with hotter alcohol levels than we prefer. In 2016, winemaker Kyle Knapp had the brilliant idea of co-fermenting the powerful, black varietal with soft, rich, and cushioning Roussanne. Roussanne ripens extremely late here on the vineyard, so it naturally brings the sugar content down – translating to 1.5% less alcohol than if we left the Petite Sirah monocepage. During fermentation, the golden Roussanne polishes the raw power of the Petite Sirah into an elegant, fine wine. In recognition of the winemaker's triumphant experiment, artist Eric Beltz drew a rugged, older, perhaps more dapper version of Kyle Knapp emerging from the wilderness with a domesticated bear by his side. A parallel to Roussanne taming the wild Petite Sirah. The term "Hair of the Bear" described a top-notch frontiersman or trapper back in the days of the Wild West and California Gold Rush.
VINTAGE
2019 marked the second vintage in a row without harvest-time heat spikes. Facial expressions among the team conveyed our shared thoughts and feelings without saying a word – a certain giddiness that we had a shot at replaying 2018 armed with that year of heat-free experience. And, the acids were hanging even higher and fresher than 2018.
SENSORY
Inky purple in the glass and with a nose that pierces into pure hedonism. Thick and ripe but well-structured and youthful. The purple-blue-black fruit purity will evolve and continue to gain even more flesh to reach new heights in 2-3 years (2023-2025). As one of our biggest, richest cuvees, Hair of the Bear delivers the refined 2019 vintage in its own expression, rewarding with its largess – yet finely balanced and age-worthy. With an hour of air, hints of mint and basil begin to build onto the thick-cut fruit showing nods of sophistication to this Wild West cowboy wine.
Wine Specs
Appellation
Ballard Canyon
Vineyard Designation
Stolpman