Hilltops Syrah 2017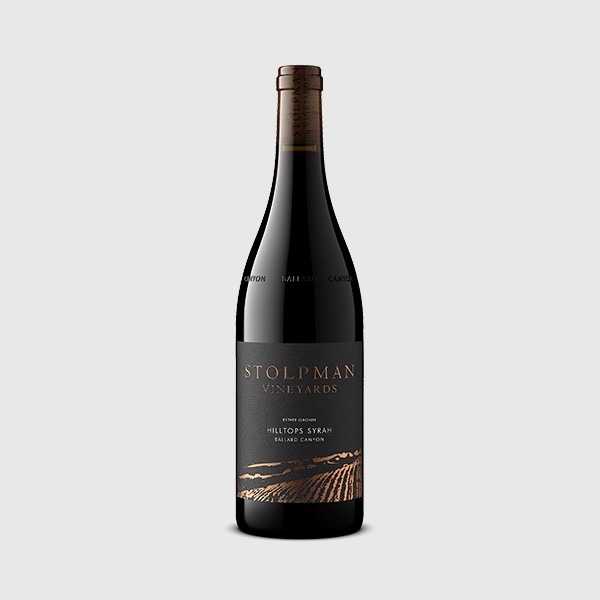 "A darker profile that shows ripe and hedonistic. Blueberry and plum crumble with vanilla ice cream. Coating and supple with traces of cinnamon concluding with a smooth, silky finish. 2017 Hilltops is hard not to love now and should be enjoyed now through the next 5 years." ~Peter Stolpman
Background
We originally selected barrels of Hilltops Syrah from each of the three ridgelines in the vineyard. Up here, rocky topsoil and wind exposure combine to limit yields for more intensity. Since 2008, we have isolated the Syrah from only the center hilltop of the vineyard that is planted at high density. Vine competition and less fruit per vine results in even further depth. Today, only this one Limestone crown makes the cut into Hilltops Syrah.
Vintage
The high-density Syrah vines planted here create raw power - and the 2017 vintage carries the strength like a dancer. La Cuadrilla strategically plucked off the more parched exposures prior to the heat event in late September and then returned to pick pure opulence from the remaining blocks. The almost month-long picking window allowed for brighter layers atop the wine's typical lush headiness.
At the Winery
With the team on high alert, Block B always draws renewed fervor on the sorting line to make sure only the perfect clusters remain intact and only those pretty, round grapes make it into the concrete fermenting tanks. The cuvee's place near the top of the winery's hierarchy gives it right-of-way to take up the precious fermenting real estate until we think the tannins have softened into the macerated skins, even if that means soaking for a full 30 day spa treatment of twice-daily gentle pump overs.
Sensory
With the elegance only a magical Hilltop vista can bring – framed by the one stunted oak tree that has spent the past few hundred years making the scene even more memorable – the 2017 Hilltops will wow you. But unlike the immediacy of the Instagram post from atop the hill, this work of art will develop and deliver much greater depth than the photos. For now, herb garden aromas straight out of a Provence fairy tale twirl around the nose bordered by fruit trees and lavender. The palate hits on juicy black cherries atop those hallmark savory Syrah notes we (Syrah fanatics) all seek out: juicy, spit-roasted meats. A true feasting wine. The 2017 necessitates protein with a salinity component that wets the appetite and perks up the palate. All of this, the yummy cherries and the salty, herbal, mineral complexity - all - get wrapped in the fleshy dumpling of richness that harkens back to the aged Hilltops bottlings from last decade.
Wine Specs
Appellation
Ballard Canyon
Vineyard Designation
Stolpman
Wine Profile
Other Notes
Library Sale 2023