Hilltops Syrah 2018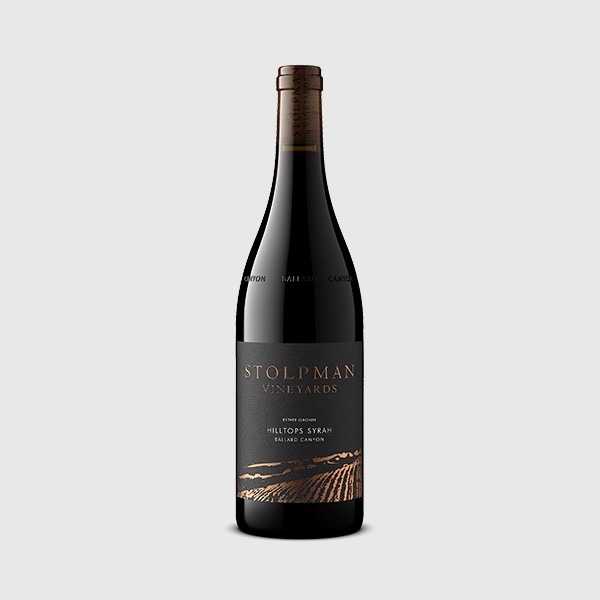 Background
We originally selected barrels of Hilltops Syrah from each of the three ridgelines in the vineyard. Up here, rocky topsoil and wind exposure combine to limit yields for more intensity. Since 2008, we have isolated the Syrah from only the center hilltop of the vineyard that is planted at high density with narrower rows and vines planted tightly together. The root competition and less fruit per vine of this high-density vineyard results in even further depth. Today, only this one Limestone crown makes the cut into Hilltops Syrah.
Vintage
Heat spikes alone usually define vintages in Santa Barbara County. Here, we are blessed to farm without fear of rain, rot, hail, and humidity. In 2018 the only heat wave we suffered through arrived so early, on July 7; that it didn't impact the fruit ripening or flavor profile. The summer turned into a moderate, steady dream year when acids hung high as sugar slowly accumulated and intense, nuanced flavor developed.
At the Winery
With the team on high alert, Block B always draws renewed fervor on the sorting line to make sure only the perfect clusters remain intact and only those pretty, round grapes make it into the concrete fermenting tanks. The cuvee's place near the top of the winery's hierarchy gives it right-of-way to take up the precious fermenting real estate until we think the tannins have softened into the macerated skins, even if that means soaking for a full 30 day spa treatment of twice-daily gentle pump overs.
Sensory
The pretty lavender on the nose belies the smooth decadence in the mouth. Hilltops might be the ultimate example of the suppleness of the 2018 vintage. After letting the wine breathe, gorgeous deep shades of red emerge in force, a wave washing through from nose to finish. The wine hits a silky, velvety stride that makes it tough to resist hoarding bottles.
Wine Specs
Appellation
Ballard Canyon
Vineyard Designation
Stolpman