Love You Bunches 2022 Magnum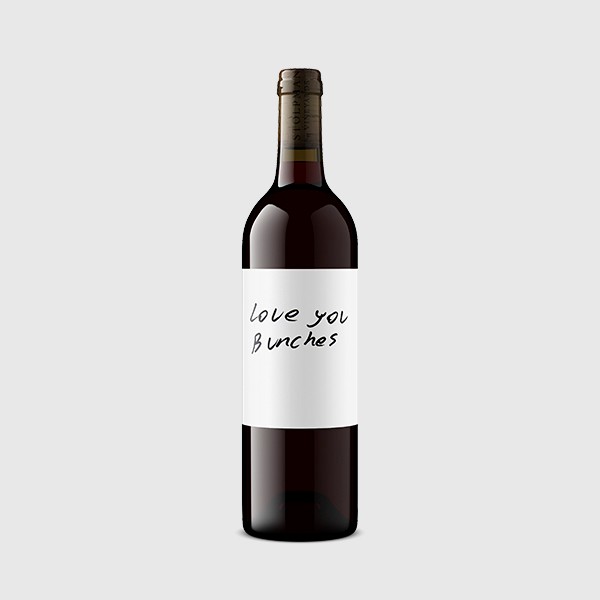 This bottle is 1.5L MAGNUM
BACKGROUND
We began producing Carbonic Sangiovese in 2013 in an effort to make a fresh, lighter version of Sangiovese. Sangiovese as a grape, is both highly tannic and high in acid – a one-two combination that often creates a rough, rustic profile when drunk young. Before we experimented with carbonic fermentation, we intentionally picked Sangiovese on the ripe side to allow for tannin and acid to soften. Then, we aged the wine in barrel for 30 months and another 6 months in bottle to allow acid and tannin to integrate with the wine's mid-palate flesh.
Carbonic Fermentation doesn't extract the Sangiovese's tannin because the grapes ferment whole, uncrushed in a sealed tank. Because we aren't worried about overly dry tannin; we can pick earlier, at lower sugar and rely on high, refreshing acidity for finishing balance in the absence of tannin. Because we don't need to wait for integration, we bottle the wine within a few months of harvest, locking in the fresh profile.
In 2016 we re-branded Carbonic Sangiovese "Love You Bunches" – a pun for the gentle "loving" treatment of the whole grape bunches to keep the grapes intact through fermentation. Of course, the simple, whimsical label is the perfect fit for this fun, happy wine. The label shows off the beautiful penmanship of vineyard manager and Grape Whisperer, Ruben Solorzano.
VINTAGE
Always a long harvest stretching throughout September well into October, we achieve a continuum of ripeness from the first eastern picks towards Happy Canyon and then we finish harvest in the colder western Los Alamos corridor. Only about 10% of the cuvee ripened before the 2022 early September Labor Day heatwave, with sugars then slowly accumulating, retaining vibrant acidity, in the weeks thereafter. With lower yields than normal in 2022, the winemaking team stayed even more vigilant to make sure the tiny, flavor-packed grapes would deliver the delicate, refreshing chilled red wine we have all come to love. Catching picks on the early-side, then gently pressing our carbonic tanks prior to tannin absorption – the 2022 proves to be a hallmark Love You Bunches red vintage!
SENSORY
Bright red raspberry, red currant, rhubarb, and violet. Refreshing to the max but bone dry with just a kiss of fine tannin. Just enough of a riper profile behind the bright "ray of sunshine" energetic cut. Candied cherries and red jolly ranchers bring home the deliciousness quotient. A floaty, foamy layer bordering on frothed cappuccino milk marries to the zip and tang. Serve cold!
Wine Specs
Appellation
Santa Barbara County