Ruben Solorzano Syrah 2020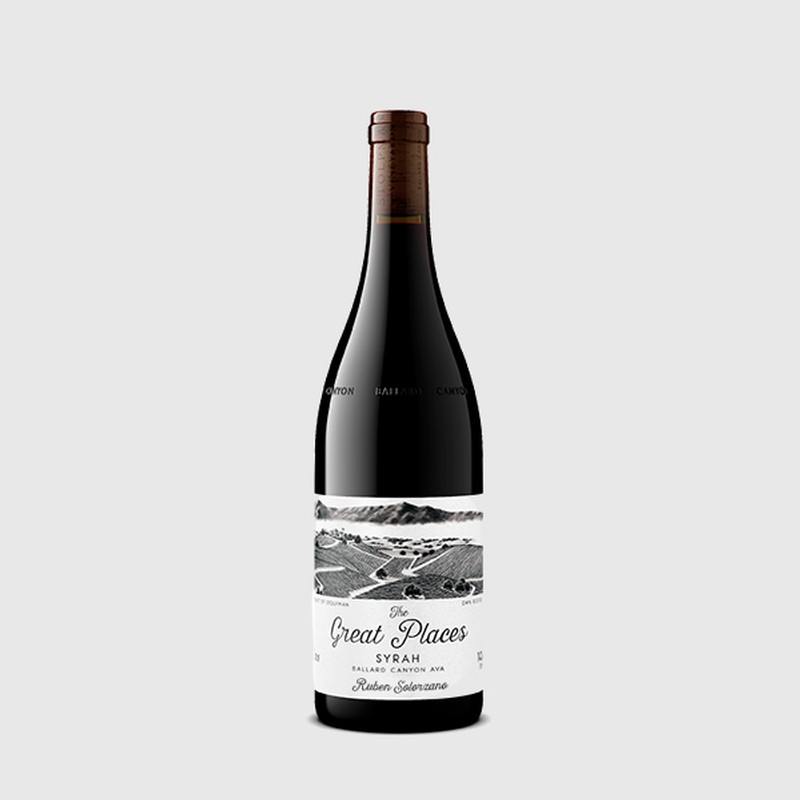 GREAT PLACES SYRAH
We select our highest tier of Syrah, "The Great Places", from 8 acres of our steepest hillsides where we have taken an approach unprecedented in the New World. First, the pre-clonal strains are wholly unique and selected from 100+ year-old vineyard sites. The "pre-clonal" vines ripen clusters with only a few, loose, tiny grapes relative to modern Syrah clones that have been bred for vigor and productivity. Then, these Syrah strains are planted own-rooted and head-pruned at just 2.5 x 3 feet spacing, or 6,000 vines/acre. Each vine puts all of its energy into ripening 2-3 clusters of concentrated, complex fruit. Because of the tight spacing, all work must be done by hand. The brand is named after one of favorite Serine parcels in Cote-Rotie "Les Grandes Places".
BACKGROUND
Grape Whisperer Ruben Solorzano planted the first test vineyard that would pave the way for the other GREAT PLACES vineyards back in 2007. Ruben crammed 6,000 pre-clonal Syrah vines (that he had secretly acquired) onto one beautiful hillside in marching rows of diagonal trellises directly above Ballard Creek.
VINTAGE
After living through the record breaking heat of early September 2020, we understood the unprecedented concentration and ripeness the vineyard would give us. The hedonism of 2020 would only be amplified in the low yielding, extreme high density plantings of THE GREAT PLACES.
For the only time since the block's first crop in 2008, we picked the entirety of the steep planting in one morning. In every other vintage, ripening in the lower half of the block lags at least a week behind the top, but the 2020 heat evened the entire hillside. The top of the block fermented 100% whole-cluster in an effort to lessen extraction while we de-stemmed 100% of the bottom half of the block.
SENSORY
A deep dark bouquet previews a surge of power on the palate but instead, the body of the wine lands precisely delicate, with playful energy and nuance. The wine's March 2023 release follows record breaking Surf here in California, and unlike the swells of January 2023, Great Places Ruben Solorzano 2020 delivers massive size, but more importantly, perfect graceful shape and form.
Swirling and thinking, cocoa and fruity artisanal coffee notes arise and even a touch of cucumber mint can be noted. Coming from the most heralded vintage in Stolpman's history, the Great Places Ruben Solorzano delivers the darkest, deepest profile of any other 2020 Stolpman Syrah.
Wine Specs
Appellation
Ballard Canyon