Ruben's Block Syrah 2013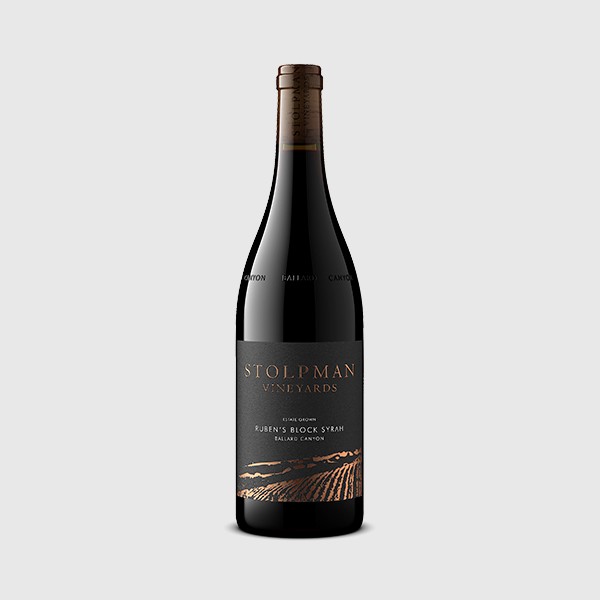 Background
Upon return from a trip to Cote-Rotie in January of 2006, Ruben set out to plant a vineyard identical to those he saw on the steep slopes overlooking the Rhone River. Perched above Ballard Creek, Ruben chose the steepest exposure on the ranch. Ruben planted 6,000 Syrah vines crammed into a single acre. Each vine is head-pruned to keep the tightly spaced vines compact – the Syrah grows from the ground-up every year, rather than from a permanent horizontal cordon. For further fruit purity, Ruben own-rooted the vines without American rootstock. Each vine yields only 2 to 3 grape clusters – granting flavor concentration and complexity. Like Cote-Rotie, Ruben's Block faces east. In Ballard Canyon, east facing vines receive intense sunshine in stillness - before afternoon winds begin fluttering the leaves as the sun moves west thought the afternoon. After farming this revolutionary, extremely high-density one-acre block for 9 years, we jumped off and planted 12 more acres (72,000 vines) in this format. Along with Ruben's Block, this new acreage will continue to define the potential quality of Ballard Canyon.
Vintage
2013 Syrahs are known for their brilliant, vibrant red fruit. Our earlier releases of Syrah showed an energetic cut across the palate – there was a pin-point sharpness of perfumed fresh fruit. This flavor profile stems from a very typical weather pattern throughout the Ballard Canyon growing season. Cold nights kept acids high, and the fruit profile bright and energetic. The second consecutive drought year led to low yields and heightened flavor concentration and complexity.
At the Winery
For the second year in a row, we decided to hold Ruben's Block in neutral French oak through a second harvest, bottling the wine after 28 months, in January of 2016. Held over a year in the bottle prior to release, Ruben's block has now had time to unfurl into a more cerebral wine of meditation.
Sensory
As of the 2013 Ruben's Block Syrah release, the fresh red fruit has evolved towards more seductive ripeness while still possessing a liveliness across the palate. The deep, round, fragrant red fruit gets beautiful backing from soft sage and fennel character in the darker core with hints of star anise and forest floor. This super-star vintage of Ruben's Block signals the new era for this cuvee. Certainly the most-intense, pleasurable wine since the inaugural 2008 vintage. The 2014, just bottled in January of 2017, follows suit.
Wine Specs
Appellation
Ballard Canyon
Vineyard Designation
Stolpman