Ruben's Block Syrah 2014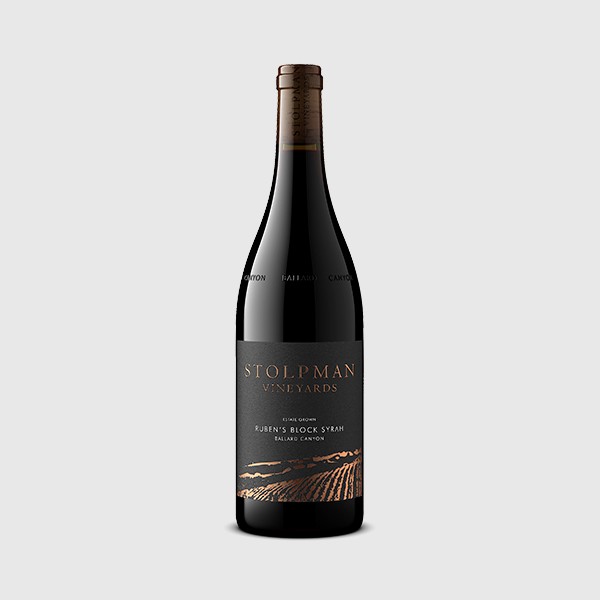 Background
Inspired by the steep hillsides of Cote-Rotie when he traveled there on a 2006 research trip, Ruben Solorzano returned home and planted a vineyard using the exact training technique employed in Cote-Rotie. Planted on the steepest slope on Stolpman Vineyards, over 6,000 vines are neatly stacked 2.5 feet apart. Every 2 vines are trained diagonally towards each other, forming narrow triangles, or Tepees. Two vines angled to one point reduces the amount of shading in the tightly spaced block. The goal of this methodology is to foster root competition for compact vines. Each vine concentrates on ripening only a few tiny, extremely concentrated, vibrantly flavored grape clusters.
Vintage
The mellow, lazy summer of 2014 balanced the forceful, edgy nature of Ruben's block. In the past, the wine has brimmed with so much tension, acidic cut, and tannin – we've recommended to lay it down for decades. Combined with gentler winemaking techniques, the moderate weather in 2014 created a more open wine already blossoming out of the glass.
At the Winery
Along with reducing the percentage of whole-cluster fermentation to 50%, longer barrel age helped reign in what has been an edgy monster of a Syrah in years passed.
Sensory
Always an intellectual wine, 2014 Ruben's Block somehow marries a raw, energetic red-hued energy with dark chocolate and shadowy, lush forest notes. The wine straddles the border of a sun-drenched, fragrant fruit tree orchard and the untamed wilderness beyond. The stems present themselves with a black tea note, and the wine is brought to a happy place with touches of baking spice and rosemary on the finish.
Wine Specs
Appellation
Ballard Canyon
Vineyard Designation
Stolpman