Sangiovese 2017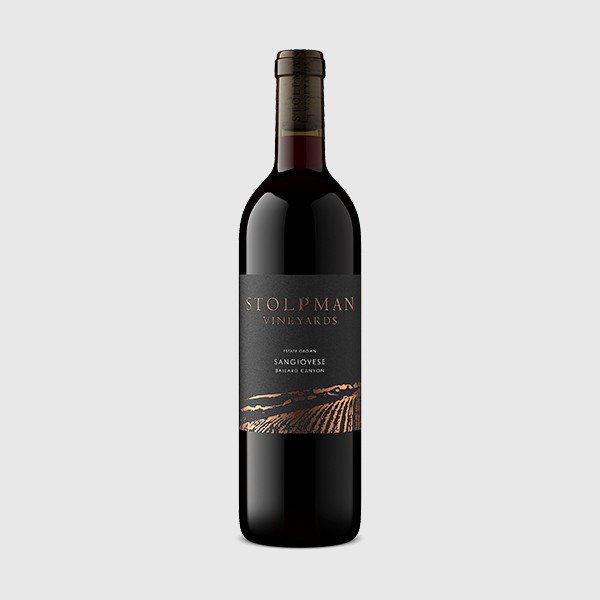 Background
Tom Stolpman planted the original 10 acres of Sangiovese way back in 1994. Today, we are up to 21 planted acres of the grape and we still can't keep up with near fanatical demand from our wine club members. By far the most popular wine in our Los Olivos tasting room, we have had to cut back out-of-state distribution on this wine. Aged 22 months in neutral large Ermitage 500L French oak puncheons, Sangiovese's tell-tale acidity and tannins on the finish get the chance to slip into the rich, ripe middle mouthfeel.
Vintage
In 2017 the vines woke up sublimely after an energizing March saturating rainstorm. Mother nature fostered an even, nurturing spring and summer punctuated by intense heat spikes towards the end of September. Lucky for us, our Sangiovese vines are insufferably lazy and shrugged all of the aforementioned climatic events off and gradually, beautifully, ripened.
Sensory
Fresh red fruit carries the day with a gingerly prance through the palette. 2017 Sangiovese comes off a bit fresher from the slightly earlier bottling date that we adjusted last vintage, with the 2016. Hints of elegant chocolate truffle rather than the rustic leathery profile sometimes found in Stolpman Sangiovese vintages of the past. Super youthful now, fun and energetic, it will also be interesting to try it down the road a couple years when it has had the time to further flesh out and hit that deeper level of rich hedonism.
Wine Specs
Appellation
Ballard Canyon
Vineyard Designation
Stolpman