Sun & Earth 2018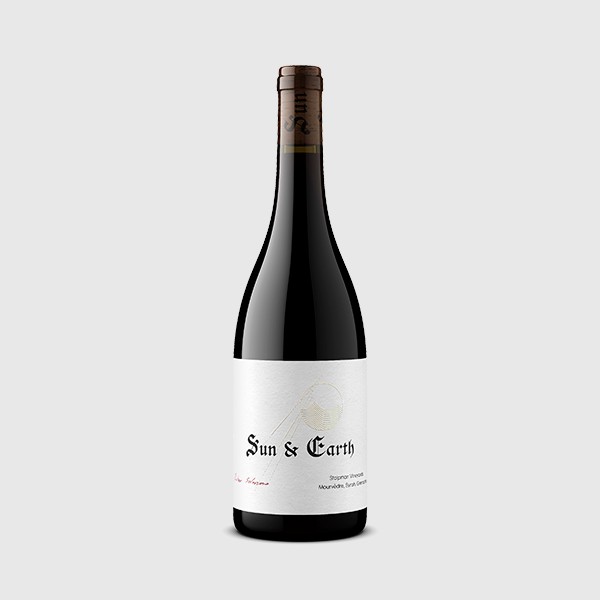 Background
Following the success of our Para Maria partnership, Ruben made it clear that in addition to Para Maria, a brand focused on over-delivering for an amazing price point, he wanted a world-class legacy wine brand. After months of soul-searching, we realized that the only way the wine Ruben envisioned would be authentic would be for him to plant his own estate vineyard. The 4 acres behind the Solorzano family's house on Stolpman Vineyards had laid fallow for over a decade and I decided to give Ruben this land in his "backyard". In early 2016, Ruben and Maria planted exactly the vines for their perfect wine – Mourvedre, Syrah, and Grenache. The goal is to make a co-fermented bottling each vintage, meaning, each varietal will ferment together rather than blending later in the winery. Co-fermenting means the final profile is set in stone up front, direct from the vineyard, all about terroir (and the vineyard work that got it there). A little something can't be added later to help out. The lofty ambition of co-fermenting is that the flavors of the different varietals marry as juice turns to wine – these foundational flavors will be uniquely different than the same blend fermented separately.
Vintage
Heat spikes alone usually define vintages in Santa Barbara County. Here, we are blessed to farm without fear of rain, rot, hail, and humidity. In 2018 the only heat wave we suffered through arrived so early, on July 7; that it didn't impact the fruit ripening or flavor profile. The summer turned into a moderate, steady dream year when acids hung high as sugar slowly accumulated and intense, nuanced flavor developed.
AT THE WINERY
Because Sun + Earth should only highlight Ruben's perfection in the vineyard, we remain vigilant, yet hands-off with this fruit as it ferments. The first to ripen, Syrah came into the winery and as it started to ferment, Grenache was added over it in concrete. Next, we picked the remainder of Grenache and as it started fermentation, we added the late ripening Mourvedre. Fermentation lasted 28 days, plenty of time for the wine to develop nuance and for tannins to soften as the skins sat saturated.
Sensory
The bold and robust bouquet shows off the concentration of the ultra high-density vines that yield just 2-4 tiny clusters per vine: Dark and intense delving into anise. But then the palate immediately presents a refined, graceful profile much more fancy than the raw power on the nose suggests upon popping the cork. As the wine opens up an insanely alluring ripeness begins to shine checked by menthol and citrus. A fine, smooth finish rounds out this world-class effort by Ruben Solorzano.
Wine Specs
Appellation
Ballard Canyon
Vineyard Designation
Stolpman